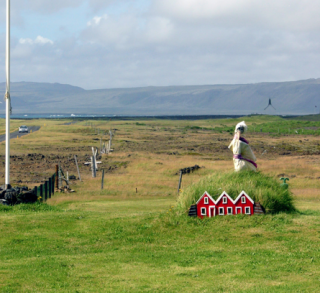 Elf advocates and environmentalists have joined forces in Iceland to stop a large-scale road project that was due to take place in a region where elves are believed to live.
A judge ruled that the highway project be cancelled because there is a chance elves could be living on the barren landscape it was going to take place on.
Elf advocates and environmentalists have been doing everything they can to make the Icelandic Road and Coastal Commission change its mind about the controversial road.
The road would have run from Reykjavik to the Alftanes peninsula. The landscape between the capital and the peninsula is home to an elf church, and campaigners think elves may live there.
The Friends of Lava campaign got so much support that the project has been put on hold until Iceland's Supreme Court rules on the issue. The group claims the road-building project would have an environmental and cultural impact, including impacting the lives of the elves.
The elves, or Huldufolk (hidden folk) as they are known in Iceland, have caused so much disruption to construction plans in Iceland over the years that the country's road and coastal administration has created a stock media response for elf enquiries.
Part of it states that issues have been settled by postponing construction projects until the elves that live in the area in question have supposedly moved on.
More to the absurd point, they cannot reach a consensus because public hearings into environmental impact assesment has yet to be attended by any of these elusive elves.