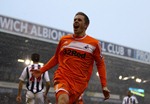 Liverpool are rumoured to be plotting a move for Tottenham Hotspur forward Gylfi Sigurðsson in the January transfer window.
The Icelandic international, who has been in and out of the team since he signed for the team at the beginning of the 2012-13 season, has failed to recapture the form that he showed while on a five-month loan spell at fellow Premier League outfit Swansea City at the beginning of 2012.
Back then Gylfi Sigurdsson teamed up with current Liverpool boss Brendan Rodgers, who brought him in from German club 1899 Hoffenheim to bolster his squad. His form, however, caught the eye of Tottenham and he signed for the London club for a fee of £8.8m in July 2012.
The Icelander's main problem at Tottenham has been consistency, and it has been rumoured he is keen to link up with Rodgers again in a team whose title aspirations are growing by the week. Spurs, meanwhile, are also reported to be eager to offload certain players in January and bring in replacements as they try to halt their dwindling season.
Much of what happens will depend on who is named the new Spurs manager in the coming days or weeks, after the club's board decided Andre Villas Boas's time had run out and sacked him on Monday.