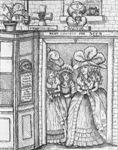 Seventeen suspected prostitutes were arrested during a police operation last Saturday in Copenhagen, revealed Danish police.
The operation, which was carried out by Denmark's national police force Rigspolitiet and its human trafficking and immigration departments, targeted street prostitutes hanging about in the city's red light district, Istedgade.
Rigspolitiet inspector Jan Bjorn said Istedgade is an area of the city they regularly focus on as the women there are offering sexual services to people walking past. He said their "aggressive" behaviour is bothering residents of the area as well as business owners, hotels and visitors to Copenhagen.
Of the women arrested, 16 were from Nigeria while the other was from Romania. They now face a number of charges, including working illegally and illegal immigration. Twelve will appear in court in the next few days, while the remaining five have been released because of insufficient evidence.
Bjorn said that Denmark's anti-human trafficking agency (CMM) will assess the women's situation and ensure they are offered all the support they need.
Prostitution was decriminalised in Denmark in 1999, in part because authorities considered it would be easier to police if it was made legal. However, third party activities including running brothels and other types of procuring remain illegal. Prostitution by non-residents is also illegal.