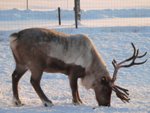 A Norwegian butcher has prepared reindeer meat in the run-up to Christmas so the country's Muslim population can join in the festive food traditions.
Harry Drystad, owner of a wildlife abattoir near Trondheim, used the help of a certified halal butcher to ensure the Scandinavian delicacy would be available for Muslims during the Christmas period. He said meat from 100 reindeer is now ready to be delivered to shops across Norway.
Drystad, who admitted he was keen to market the reindeer meat to the country's Muslims, was given the green light by the Islamic Council of Norway, who he has sent an open invitation to visit his abattoir and sample the meat.
The butcher explained that they came up with the idea around 18 months ago and spoke to an acquaintance who had contacts in Dubai. They were then told that they could sell reindeer to Muslims but it had to be halal, so they thought they'd give it a go.
Drystad's ambition doesn't end there; he now wants to introduce a ham suitable for Muslims to eat. He explained they have information that ham can be produced from the reindeer, meaning Muslim children could be allowed ham in their sandwiches.
The Islamic Council of Norway's general secretary Mehtab Afsar said it will exciting to see how receptive the country's Muslims are to the novelty of reindeer. He said he has been informed the meat is very good, but admitted he has never tasted it.