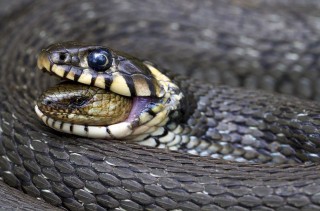 A photograph entitled Swallowed Alive has been named as the 2013 Picture of the Year. The photograph, which was taken by Finn Jukka-Pekka Tikkanen, shows what the cameraman said was either a grass or a ringed snake swallowing a slow worm.
The panel of judges said the image captured an event that few people are ever able to witness. They described it as the undisputable winner, saying it is nature photography at its absolute best.
Tikkanen recorded the incident when he was carrying out research on whether ringed snakes hunt frogs. He said he then noticed the slow worm – a limbless lizard – unsuccessfully try to escape the snake's grasp.
He said when the lizard stopped moving, the snake started to swallow it whole, which is when he changed to the close-up lens on his camera. He explained that he slowly approached the snake hoping not to scare it away then when he was just one metre away he lay down and started taking pictures.
Meanwhile, the People's Choice prize was won by Juan Carlos Cruz for his photo of spores shooting out a puffball mushroom. His picture, entitled New Beginnings, also was awarded the Best Plant Photo award.
Photo: Swallowed alive, by Jukka-Pekka Tikkanen
Source: Yle