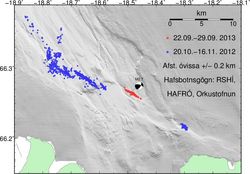 Several shakes reaching a magnitude of 3 and 3.2 were felt offshore North Iceland, 10 km NW of Gjögurtá this morning. 
Those shakes are a part of swarm activity which has been ongoing since 25 September. Roughly 1000 earthquakes have been recorded in the swarm.
The affected area including the towns of Akureyri, Dalvík, Ólafsfjörður, Siglufjörður and Húsavík, which is populated by approximately 26,000 people. Magnitude 3 earthquakes are harmless to people and structures. However, the swarm of seismic activity is notable and is being monitored by the Icelandic Met Office.
Earthquakes in Iceland are frequent as the country is situated at the convergence of the continental plates of North America and Eurasia.