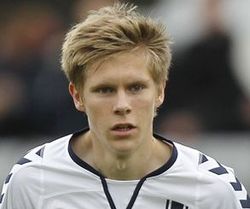 Iceland's Football Association President Geir Þorsteinsson has questioned FIFA's nationality regulations in the wake of striker Aron Jóhannsson's decision to represent the US.
Geir appeared on US TV show Soccer Morning to discuss Aron's decision to play for the US ahead of Iceland, as well as the Icelandic FA's statement claiming the forward's ties with US football are non-existent.
Jóhannsson represented the IMG Academy in the US state of Florida during the 2007-08 season, after spells with several youth clubs in Iceland, where he made his professional debut in 2008 for Reykjavik club Fjölnir. He went on to win 10 caps for the Iceland under-21 team and was in the starting line-up for every 2011 UEFA European U-21 Championship game.
An unhappy Geir said that Aron, who now plays for Dutch side AZ Alkmaar, was schooled through all the Icelandic football youth levels until the age of 20 before he headed to Holland to play his club football.
The Iceland boss gave the impression that it was FIFA's regulations he was unhappier about, rather than the player's decision. He said he has yet to speak to Aron since he made up his mind to represent the US, his country of birth, but that he wants to know the factors behind his decision.
The Icelandic FA released a statement last week saying that there is speculation Aron's choice was influenced by factors such as the greater potential to earn sponsorship money representing the US.