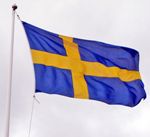 Sweden's economy suffered an unexpected decline during the second quarter of the year as Scandinavia's largest economy struggles to perform amid weak demand from the financially-stricken Eurozone.
Gross domestic product shrank by 0.1 per cent between April and June, after expanding by 0.6 per cent in the opening three months of the year, according to figures from Statistics Sweden. Annual growth slowed from 1.7 per cent to 0.6 per cent, while a survey of 12 Bloomberg economists showed that the economy was growing by just 0.1 per cent quarterly.
Nordic Bank AB chief analyst Torbjörn Isaksson said that despite the figures being weaker than anticipated, the monetary policy outlook will remain unchanged. He noted that the opening two quarters should be viewed together, showing some growth over the first six months of the year.
Isaksson added that, given the favourable household conditions, there should be healthy consumption growth in the coming months, while indicators suggest that exports will gradually improve too.
The central bank's main rate remained unchanged this month, and indicated that it is likely to start increasing the rates as the economy improves in the second six months of the year. Sweden, which relies strongly on exports, has seen its recovery hindered by lower demand from Eurozone countries struggling to emerge from recession.