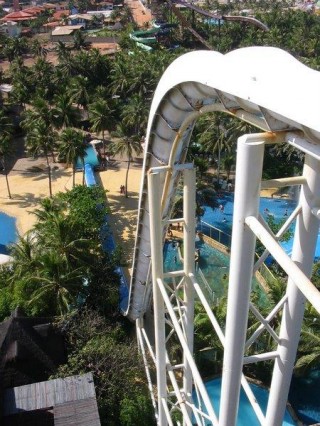 A water park employee in the Swedish town of Halmstad will have to answer to her bosses after telling two sisters they could not use one of the popular water slides because they were too fat.
32-old Lena Berling and her 27-year-old sister Catrine said the attendant had "ruined" their family holiday by telling them they were too heavy to get on the wate rslide at the Adventureland theme park. Catrine described the incident as "awful and embarrassing".
The Wall water slide can hold up to 150kg per boat, but the sisters say they weigh just below that. The girls had been on many of the park's rides earlier in the day, but were stunned and embarrassed when told by a female ride attendant that they could not use this particular attraction.
Catrine pointed out that her boyfriend and his friend exceed the weight limit yet they went on the ride together. She added that they feel they maybe stood out as they are "shorter and stockier". After being turned away from The Wall, the family thought about cancelling their holiday before deciding to complain at the park's entrance instead.
In response to the complaint, Adventureland owner Mikael Andreasson said he has been overweight in the past and takes offence when hearing such things. He noted that the women should have been given the opportunity to each ride in one boat, and added that he would meet the sisters personally to offer them some kind of compensation.