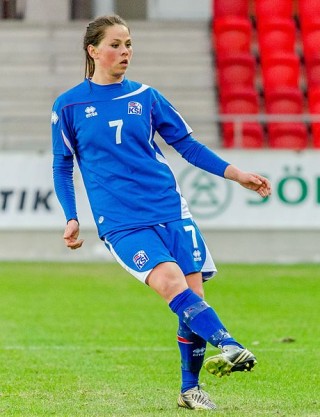 Midfielder Sara Björk Gunnarsdóttir has spoken of her joy that Iceland has managed to qualify for the UEFA Women's Championship in Sweden this month. Just five of the 54 UEFA members have smaller populations than Iceland, but after qualifying for their second successive championships, the North Atlantic country are now among the best and most consistent in Europe.
Sara Björk was in the squad that qualified for the last championships in Germany at the age of just 18, but now with over 50 caps she is an integral part of the national team and hopes for a successful campaign this time out.
She explained that she is very proud that a nation with only 300,000 people can make it to such a big tournament, and attributes it to the fact they have a strong team spirit and the right attitude.
Iceland are in a group with one of the tournament favourites and current holders, Germany, as well as Holland and fellow Scandinavians Norway. Sara Björk admitted it would be tough against Germany but said if they defend well they will have a chance. She said Norway are a really good team but they have beaten them in the past, and Holland are strong but they will also have a chance against them.
Four years ago in Finland, Iceland lost all three of their matches in what was the first big tournament they had qualified for. The midfielder said the results were not good last time out but the experience was amazing, and in Sweden the squad is ready to show they can perform better with the experience they have gained.