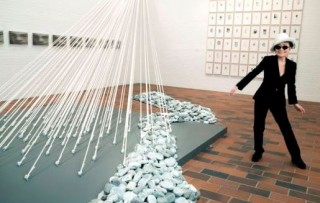 The Louisiana Museum of Modern Art in the Danish city of Humlebæk has launched a retrospective exhibition to recognise the star, who turned 80 earlier in the year.
The exhibition, Yoko Ono Half-A-Wind, celebrates her influence on Avant-garde art over the past 50 years, and how she has continued to reinvent herself through music, film, poetry and installation pieces.
Much of the work she produces is interactive, with one of her most recognised installation pieces, En Trance, is part of the exhibition. En Trance is an architectural construction has six different entry points, allowing the viewer to enjoy a number of different experiences.
In addition, there is a new installation called Moving Mountains, in which people are encouraged to use cloth bags to create mobile sculptures.
Yoko Ono has also created a number of other new pieces that will be on show in the exhibition. Billboards have been erected across the capital, Copenhagen, with worlds like DREAM, IMAGINE, BREATHE and TOUCH displayed on them to encourage locals to take a trip to Humlebæk. There are also free postcards with her artwork on available to visitors in the city's restaurants, cafes and cinemas.