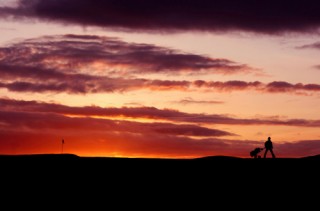 Being a keen golfer, I had heard about Iceland having some of the most incredible 18-hole golf courses in the world, but I never knew to what the full extent playing golf in Iceland would be like.
Golfing during Iceland's summer months is next level; this season brings with it the famous midnight sun, which certainly makes for a new golfing experience. Normally at home in England, my friends and I tee off in the early hours of the morning, so the idea of playing 18-holes at midnight was a welcoming thought.
During my time in Iceland I played at a variety of courses, but Oddur stood out to me the most. Oddur is considered to be one of the finest golf courses in Iceland, located in the majestic surroundings of Urriðavatnsdalir, about 20 minutes driving distance from the centre of Reykjavík.
Oddur was designed by Hannes Þorsteinsson, a golf course architect and member of the British Institute of Golf Course Architects, and was beautifully put together. The tees were in great position, in line with the fairways and greens, all encapsulated between lava rocks and hills.
My family and I travelled in a camper van from CampEasy; this allowed us to travel across the country at our own pace. We managed to pick up a golf card, which gave us access to 29 courses in Iceland; in total it was 94 euros for two adults and our 16-year-old son, and saved us a bunch of money.
Golfing in Iceland was a thrilling experience; I would highly recommend my holiday to any avid golfer.
Thanks to Ben Johnsson for sending IceNews this short piece about golfing in Iceland. As well as being an amateur golfer, Ben is also a painter and decorator by trade in Kent, England.