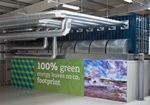 Advania, a leading Information Technology (IT) company operating in the Nordics, recently signed an agreement with Opera Software for the expansion of its operations at Thor Data Center – a green data center in Iceland owned by Advania.
Opera Software uses the data center to facilitate web browsing for more than 230 million Opera Mini users around the world. The new agreement continues the ongoing buildup at the data center with a near doubling of Opera's current capacity.
Gestur G. Gestsson, CEO of Advania, said, "It's very important for us to have the continued trust of Opera Software and to be able to support the company with its continued success. Advania aims to be a trusted business partner who supports clients in their work, ensuring that their operations are second to none. This business partnership is built for the long haul."
Opera Software was one of the first companies to seize the opportunity represented by Iceland's affordable green energy and free cooling. This allows for an extremely efficient operation while still maintaining harmony with the environment since there are no carbon emissions from Iceland's energy production.
Anthony Nichols, VP, IT Operations at Opera Software, explained, "We are pleased to be able to continue on the road of environmental responsibility in Iceland, especially since this allows us to expand our capacity to serve our customers whilst keeping our low carbon footprint intact."
The company's data center is arguably one of the world's greenest data centers as all of the energy used at the site is generated from renewable sources and less energy is used for cooling due to the natural cool climate in Iceland.