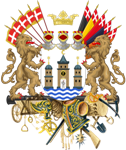 One of the largest May Day protests in Copenhagen took place at the headquarters of the company which operates the Danish capital's Metro system. The Metroselskabet main office was blocked for nearly an hour during the Danish national holiday.
The protestors were tradesman assistants and apprentices from BJMF, a union of Danish construction workers. They believed the people working on the expansion of Copenhagen's Metro, scheduled to be completed by 2018, experienced poor working conditions and low salaries.
Many of the protestors carried banners bearing the message, "Stop salary dumping – More apprenticeships now!" as they prevented people from entering the Metroselskabet's main office for about an hour.
Protest spokesperson and carpenter apprentice Laurits Lillelund issued a press statement which said, "The government and Metroselskabet have washed their hands by outsourcing the Metro project to the general contractor [Copenhagen Metro Team], which consistently hires the cheapest subcontractors. This has led to underpayment and lax security."
Lillelund's news release also said the Metro expansion had a higher accident rate than other construction projects of its size. The news release also criticised the Danish government for importing foreign workers.
The protestors also said the Metro expansion did not create enough tradesman apprenticeships. In his news release, Lillelund said about 10,000 young Danish students required apprenticeships, but the Metro expansion only created two apprenticeships instead of the 400 Copenhagen's city council initially intended to create.