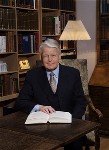 Iceland's president Ólafur Ragnar Grímsson plans to visit Maine, the northeastern-most state of the United States, next May to express his support for Eimskip. The Icelandic shipping company has chosen Portland, Maine's most populous city, as its trans-Atlantic container service hub for North America. 
In a Portland Press Herald article, Eimskip USA General Manager Lárus Isfeld said Ólafur Ragnar Grímsson hopes Iceland will become an important trans-shipment hub.
Grímsson is scheduled to attend Maine International Trade Day on 31 May as the keynote speaker. One of the main topics of his speech is expected to be business opportunities created by the shrinking polar ice cap, which will open new shipping routes between Europe, North America and China.
Maine International Trade Center President Janine Bisaillon-Cary said Grímsson's visit will help her state's business community learn more about Iceland and other northern European nations. Bisaillon-Cary's organisation was formed to help businesses in the state develop markets and sales outside the United States.
"Matched with the fact that our transportation lanes are now open to these areas, it's not just a pie-in-the-sky, theoretical thing," Bisaillon-Cary said. "It's something we can learn from and possibly participate in," she added.
Isfeld said although it will be many years before these new shipping routes are established, Eimskip's direct cargo service between Iceland and Portland will still benefit the state right away. Travel time between Iceland and its newest free trade partner, China, is expected to be reduced by one-third once a polar shipping route is established.
In addition to his speech at the Maine International Trade Day event at South Portland's Marriott at Sable Oaks hotel, Grímsson's visit will also include a meeting with Maine governor Paul LePage. All Maine International Trade Day events are open to the public.