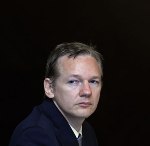 A top Swedish judge has suggested that Australian Wikileaks founder Julian Assange should not face extradition if he returns to Sweden. During a lecture, delivered recently in Adelaide, Justice Stefan Lindskog said the case was a 'mess' and questioned the legality of the United States requesting his extradition.
"It should never be a crime to make known crime of a state," Justice Lindskog told a crowd at the University of Adelaide in Australia.
The chairman of the Supreme Court of Sweden said it was questionable if Mr Assange might have committed a similar crime under Swedish law.
The United States is seeking his extradition to face charges for his part in publishing classified files that were downloaded without authorisation by a US Military Personnel. The files detailed thousands of US embassy reports exposing suspect practices undertaken by Americans abroad.
Assange is wanted in Sweden to answer to charges of attempted rape, but the Australian is unwilling to appear, fearing an extradition to the US. "What is classified under US law is probably not classified under Swedish law, and enemies to the US may not be enemies to Sweden," said Justice Lundskog.
He's of the opinion that extradition should not be considered for crimes of political nature, suggesting that exposing state mis-conduct would not be considered a crime in Sweden. Australia's foreign minister, Bob Carr, has been on record saying he believes the US has no case to demand extradition from Sweden of Mr Assange.
Britain, where Assange is currently living, doesn't see it that way and will likely extradite him to Sweden should he come out of hiding from the Ecuadorian Embassy, where he has been offered asylum.