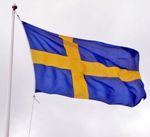 An elderly man in Sweden got quite a shock last week when a young drunken male stumbled into his bed. The incident took place on Sunday 11 March in the small town of Gnarp in the eastern part of the country. According to a report published by The Local, the 70-year-old-man awoke at about 3:30am when he felt someone moving around on the other side of his bed.
Gävleborg police officer Max Forsström told the media, "He got a bit of a shock. He'd been sleeping with earplugs as it was quite noisy in the area," The Local reports.
The elderly man immediately called the police when he noticed the stranger. And when police arrived at the man's home, the inebriated intruder was fast asleep. Reports said it took several minutes to wake the man, and when he finally became conscious he was confused and apologised several times for his mistake, noting that he lived only a couple of kilometres away.
A spokesman said on behalf of the Gävleborg police that no charges were filed and that the man was not suspected of any wrongdoing. "We let him walk home and sober up in the fresh morning air. He definitely needed the walk. I'm guessing that he found his way home," he said.