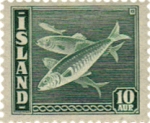 The number of Iceland-registered fishing vessels increased last year, new figures have shown. Officials from Statistics Iceland said that the amount of vessels on file with the Icelandic Maritime Administration grew by 35 ships in 2012 to a total of 1,690.
The report said that the average age of all registered vessels was around 24 and a half years. Decked vessels were newer on average at about 23 years, whilst undecked vessels and trawlers were about 26- and 27- years-old on average, respectively.
Despite the news, the total amount of Icelandic trawlers decreased by two over the 12-month period to 776 vessels, which combine for a total mass of 17,265 gross tonnes. Conversely, 14 new decked vessels were registered last year and now total to 778 ships weighing 6,498 gross tonnes, whist the number of undecked vessels grew by 23 in 2012 to a total of 879 ships weighing a combined 4,222 gross tonnes.
The news comes despite authorities in Reykjavik having reduced the country's mackerel quota by 15 per cent for 2013 amid an ongoing dispute between Iceland and Europe as the continent continues to accuse the island nation of unsustainable fishing practices.