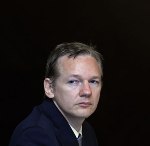 The cost of keeping police outside Julian Assange's makeshift home at the Ecuadorian embassy in London has nearly reached USD 4.5 million (EUR 3.37 million), reports said last week.
The founder of the controversial whistleblowing website Wikileaks has been cornered in the diplomatic facility since 19 June 2012. The Australian native is facing extradition to Sweden on suspicion of sexual assault, although he denies any wrongdoing. He and his supporters fear that Stockholm will in turn extradite him to the US to face charges for the release of thousands of diplomatic cables via Wikileaks.
Officials from Scotland Yard have said that the cost of keeping a police presence at the embassy, where Assange has been granted asylum, has totalled to nearly £2.9 million (EUR 3.37 million/ USD 4.5 million) due to the regular salaries and overtime wages for police officers assigned to the task.
Meanwhile, Ecuadorian diplomats continue to defend Assange and have urged London to ensure that the former hacker is not be sent to Washington should he be handed over to Sweden.
A spokesman told the media, "The Ecuadoran government is concerned by the significant cost to the taxpayers of London of policing the embassy. However, we believe this expenditure could be avoided if the UK government would provide the undertakings that the Ecuadoran government has sought that there will be no onward extradition of Julian Assange to the United States," The Local reports.
He added, "The Home Office (Britain's interior ministry) has the power to offer such an assurance but has so far declined to do so. Until we obtain these undertakings, the Ecuadoran government will continue to protect Julian Assange's human rights that are enshrined in international law."