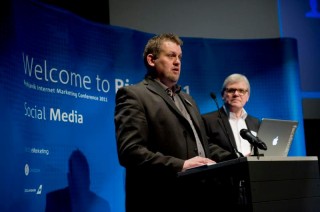 The 10th edition of the annual Internet marketing conference RIMC, is to be held in Iceland's capital, Reykjavík, taking place over 21st and 22nd March 2013. The two-day event is set to feature sessions from over 30 international marketing leaders, including representatives from Dell, Spotify, Google, and Twitter.
The 2013-edition of the conference is a two-day boot camp featuring content from over 30 internationally renowned speakers, focusing on social media and Internet marketing.
Amongst the speakers already confirmed for RIMC 2013 include Alan McMahon, SEO Manager EMEA, Dell; Ben Barokas, GM Marketplace Development, Google; Bruce Daisley, Sales Director, Twitter UK; Duane Forrester, Senior Product Manager, Bing Webmaster Tools; Jonathan Forster, General Manager Europe, Spotify; Pierre Far, Webmaster trends analyst, Google Webmaster Tools; and Craig Kanalley, Senior Editor of Big News & Live Events, The Huffington Post.
For 2012, the festival saw just over 300 attendees in total, with more than 25 percent of guests from outside of Iceland, including the UK, Norway, Sweden, U.S., Germany, Russia, Iran, and more.
RIMC is an essential networking tool for marketing and advertising people, web editors, sales and marketing managers, as well as directors of small and large businesses. The conference is also ideal for anyone who is interested in business on the Internet.
RIMC 2013 will be taking place at the Hilton Hotel Reykjavík, between 21st – 22nd March.
For more information about RIMC, and its confirmed speakers, visit http://www.rimc.is/en.