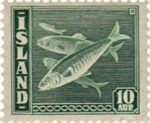 New figures have revealed that Iceland's fishing industry brought in a larger catch in December 2012 than during the same month of 2011. In all, the country's fishing operations brought in 42,833 tonnes in December of 2012, according to a new report from The Fish Site. The figure marks an increase of nearly 2.75 percent from the 41,688-tonnes harvested during the same period one year prior.
Mackerel and other demersal species comprised the bulk of the catch at about 30,800 tonnes. Cod accounted for 16,400 tonnes, whilst redfish and saithe totalled about 4,800 tonnes and 3,200 tonnes, respectively. Some 2,800 tonnes of haddock were caught during the period, whilst pelagic species accounted for around 9,700 tonnes.
The news comes as tensions between Iceland and other major North Atlantic fishing economies continue to intensify following accusations that Iceland is taking larger and increasingly unsustainable shares of mackerel and other fish stock from regional waters.
This week saw the launch of fresh talks between Norway and EU authorities regarding proposed limitations on Iceland's quotas for cod, haddock and mackerel amid the threat of sanctions against the island nation.