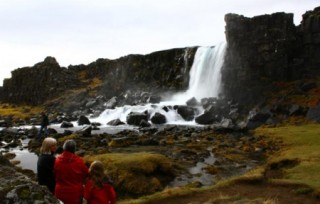 Special offers are being offered for Golden Circle tours in Iceland with Bustravel, the tour provider's most popular excursion over the winter period.
Bustravel is offering a 10 percent discount on all adult tickets for its Golden Circle tours, and a 12.5 percent discount on children's tickets.
As part of Bustravel's Golden Circle tour, visitors will explore the farming districts in the south, the Faxi waterfall, the spectacular Geysir, the waterfall Gullfoss, and the Þingvellir National Park, including the Rift valley and the Rock of law, which was the site of the first Viking parliament and is now on the UNESCO World heritage list.
Furthermore, amongst Bustravel's services, the tour provider offers five separate departures to the Blue Lagoon natural spa per day from Reykjavik and three departures a day from the Blue Lagoon to Keflavik International Airport. Bustravel also offers a free pick-up service from the customers chosen hotel accommodation.
Bustravel offers high quality bus trips across Iceland as well as professional guided coach tours and airport transfers. The company has always believed in providing great services at affordable prices and still continues to do so to this day.
For more information regarding Bustravel's Golden Circle tours, visit http://www.bustravel.is.