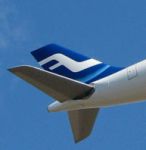 Finland's national airline has been named as the safest carrier worldwide. The recognition comes via the latest annual ranking by the Jet Airliner Crash Data Evaluation Centre (JADEC)
, a German-based organisation that tracks safety incidents on more than 800 commercial airlines in more than 170 countries around the world.
Officials from JADEC said that Finnair's position has been solidified by its lack of accidents over several decades, as well as a low number of related incidents and near misses.
Finnair's last fatal accident took place in 1963.
Arja Suominen, Finnair's chief of communications, told the media, "Of course we are pleased, as safety is the kind of thing where you can't compromise. We invest a lot in it. Finnair is the fifth oldest airline in the world, and experience helps in safety issues," the Helsinki-based YLE news agency reports.
Meanwhile, Air New Zealand came in at the second place position, whilst Hong Kong-based Cathay Pacific took third. Rounding out the top five were Gulf-based airlines Emirates and Etihad, respectively.
On the other end of the spectrum, Air India, Brazil's TAM Airline's and Taipei-based China Airlines took the lowest three positions among the top 60 carriers.