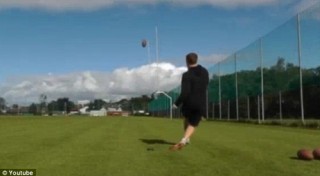 A Youtube video of a Norwegian man playing American football has caught the attention of the NFL.
Havard Rugland, 27, a native of the southern Norwegian town of Aalgaard, was invited to try out for the New York Jets in the United States last week.
Rugland – whose homemade Youtube video shows him scoring a number of trick shots and making field goals from as far away as 60 yards with ease – told the media that his tryout "went well".
Talking to reporters from the NRK news agency, he said, "They tested me on field goals and kickoffs. Obviously you feel a little more pressure here, but I stayed pretty calm."
The invite comes after the video hit viral status on Youtube; the four-minute feature has now tallied more than 1.5 million views. In addition to the jets, three major US university football programmes were also interested in Rugland's talents, according to reports.
Kicking coach Michael Husted, a retired kicking veteran in the NFL, said that Rugland may be able to achieve a position in the league.
He told the Daily Mail, "Havard has incredible talent as a kicker. He has a cannon for a leg. As he continues to refine his technique, he could be one of the strongest kickers in the NFL."
Rugland appears to have confidence in his abilities, but admits that the road to achieving his goal is far from over: "On this trip things have evolved rapidly, from just training alone to training to try out for a team. From where I am now, playing in the NFL is a long way to go, but my goal is to get a contract before the preparations begin for next season."