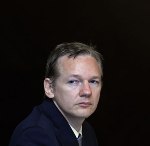 Ecuadorian officials have said that Wikileaks founder Julian Assange is having significant health problems related to his exile. The Ecuadorian ambassador to the UK told the media that the 41-year-old former hacker has come down with a "chronic infection" due to living in the confined space of the Ecuadorian embassy in London.
Assange, whose whistleblowing website has drawn heavy fire from the US and numerous governments worldwide, was granted asylum by Ecuador in the summer and remains stranded in the embassy fighting extradition to Sweden over alleged sexual assault charges. The Australian native denies the claims and fears that upon being sent to Stockholm, he would be handed over to US authorities to face charges relating to Wikileak's release of thousands of diplomatic cables.
He remains cornered in the embassy, facing arrest if he leaves.
Ambassador Ana Alban said in a statement, "Mr Assange, as everyone knows, is in a confined space. Not only does the embassy have few windows, but the city is also dark at this time – we have very little daylight in London. He is exposed to any health consequences from this lack of sunlight and lack of fresh air."
The ambassador went on to add that Assange continues to see a number of visitors every day: "We work until at least 17:30 in the afternoon and, afterwards, he meets with certain people who want to visit him for different reasons, whether they be activists, supporters, lawyers or friends."
Meanwhile, embassy officials have said that a meeting to discuss Assange's future has been arranged with UK home secretary Theresa May and foreign secretary William Hague.