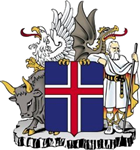 According to a recent press release by Iceland's Ministry for Foreign Affairs, Minister Össur Skarphéðinsson has decided that Iceland will co-sponsor a resolution at the United Nations General Assembly proposing to upgrade the status of Palestine to a Non-member Observer State of the United Nations.
The Icelandic Foreign Minister says that by co-sponsoring the resolution Iceland remains at the forefront of states that support the Palestinian cause, hence following through the Government's policy towards Palestine. He says that the decision is a logical continuation of the Icelandic Parliament's unanimous recognition of Palestine's sovereignty one year ago. "We support the Resolution in strongest terms, while we also believe that Palestine should become a full-fledged Member State of the UN. Our decision to co-sponsor the Resolution is to lend further support to this goal  of the Palestinians."
The Resolution is in line with earlier UN resolutions, the most important one being the General Assembly Resolution adopted in 1947 on a two-state solution. Iceland has been an ardent supporter of peace in the Middle East and supports the two-state solution. With a broad backing within the UN, there is a real possibility that this resolution becomes a turning point for peace, where the United Nations will have a key role to play.
Iceland recognised the sovereignty and independence of Palestine on 15 December 2011. "The Parliament has shown great understanding and support for the Palestinian cause. Our support to Palestine now is a logical continuation of the historic event when Althingi, the Parliament, unanimously passed the decision on the recognition of Palestine," says Minister Skarphéðinsson.
The Resolution will be voted on by the General Assembly today.