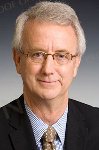 Dr Mike Allen, executive director of the Geothermal New Zealand initiative, will be speaking at the Iceland Geothermal energy conference, IGC 2013, an international event set to take place at the Harpa Conference Centre in Reykjavík between 5th – 8th March next year.
Mike has spent over 25 years with GENZL involved in the geothermal industry undertaking project developments in Asia, Africa, Latin America and the Mediterranean. In addition to being the Executive Director of E+Co – a US based not-for-profit providing seed capital for the promotion of renewable energy in emerging economies – between 1995 and 2001, Allen also founded the Singapore based ReEx Capital Asia, established in 2006 to provide a bridge between clean energy projects and investors throughout South East Asia.
Other speakers announced for IGC 2013 include Marietta Sander, the Executive Director of the International Geothermal Association (IGA), and Stephan A. Jacob, an underwriter at Munich Re who has over 4 years experience in developing tailored insurance solutions for geothermal projects covering the exploration risk for deep geothermal wells.
The aim of the Iceland Geothermal Conference is to increase awareness and emphasise the importance of geothermal. The overall theme of the conference is to share effective exploration methods, learn how to maximise the utilisation of geothermal energy from veterans, and explore ways to realise geothermal projects with less risk and higher profitability.
With over fifty presentations from industry professional from around 20 different countries, topics set to be discussed will include: identifying the possibilities of geothermal; resource management; finance, risk and insurance management in geothermal projects; role of governments and international funds; rules and regulations, case histories and sustainable resource management and environmental issues related to geothermal energy.
Furthermore, IGC 2013 is currently offering an early bird offer which consists of a 20% percent discount if you book before December 7th 2012.
To learn more about the Iceland Geothermal Conference 2013, visit http://geothermalconference.is/.