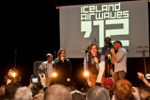 Artist Caroline Jean sent IceNews a few words regarding her first Iceland Airwaves music festival experience, and in fact, her first trip to Iceland. According to the native Canadian, she was smitten the first day she arrived.
After being lucky enough to leave Frankenstorm behind, I faced 71 KM winds walking my way back to my hotel room. If heaven really exists, it's located at the juncture of North Atlantic and Artic oceans. Compelled by fascination, rock by music every night, air waving magic, and friendly people.
Sure, seeing Sigur Rós in their homeland was as exciting as seeing them for the first time 10 years ago in Montreal, but the pre-concert was quite magical. Riding in the front passenger seat on our way back from Grindavík, nose pressed against the window looking at the scenery whilst listening to Sigur Rós songs, and hearing interviews on the radio from the band before they hit the stage that night was somehow totally unique and epic.
Let me quote Jóhannes S. Kjarval on this: "All nature is a single symphony, all of it music. You are so receptive to music out in the lava field."
Here are some images from the first day of Iceland Airwaves 2012.