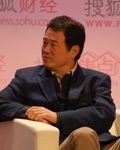 A major China-based investment firm is set sign a land deal with Reykjavik later this month. According to a report in The Global Times, the agreement between Beijing Zhongkun Investment Group Co and the Icelandic government will see some 300 square kilometres of land in northeast Iceland transformed into a tourism centre for a lease period of 99 years.
Song Ding said on behalf of the China Development Institute's Tourism and Real Estate Industry Research Center in Shenzhen, "It's a good timing for Chinese real estate companies to invest in European countries that are suffering from sluggish economy, as they could get land at lower prices," The Global Times reports.
The agreement is reportedly worth some USD 6 million (EUR 4.6 million), and Zhongkun will invest at least an additional USD 94 million (EUR 72 million) to build a golf course, a five-star resort and a racecourse on the property, according to the company's chairman Huang Nubo.
He told the China Daily news agency, "We'll pay $6 million for renting the land, but as planned, the total investment for the Icelandic project remains $100 million to finish planning and building in five years."
However, he added, "I don't expect to gain hugely from the Icelandic project. What I'm confident about is that our project will upgrade Icelandic tourism."