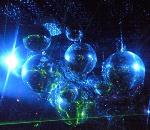 Swedish pop-sensations Abba are to open a long-awaited museum inStockholm. As of April 2013, fans can visit the facility on Djurgården Island in the centre of the Swedish capital, band member and songwriter Björn Ulvaeus said in an official announcement on Wednesday.
"I had been a little doubtful of being a museum artefact before I'm dead. As it's been such a frightfully long time, I can take a step back and take a different perspective and see that I had the chance to be part of a pop phenomenon. It's a Cinderella story that's well worth telling, and that's what we're doing here with theAbbaMuseumin a fun way, full of warmth," said Ulvaeus as reported by Svenska Dagbladet news agency.
Ulvaeus said that in addition to the standard range of memorabilia, the facility will offer a number of surprises: "Many people expect to see some of those strange outfits and the music of course. But other than that, they will be completely surprised. There is really a lot of interactivity from the latest sections."
An Abba museum has been in the works for a number of years, although the effort was delayed in 2009 when soon-to-be exhibited contents joined the 'Abba World' tour.
Abba remainsSweden's single most successful entertainment export of all time. The group has sold in excess of 378 million records worldwide despite breaking up in the early 1980s.
Ulvaeus told media it's not likely that all of the Abba members would come together for the museum's launch. "If they all come I would be very happy, but they decide for themselves," he told the newspaper.