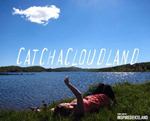 After the launch of the new Inspired by Iceland website, the online tourism campaign has sparked a new debate via its site, and its Facebook and Twitter pages whereby submissions are being welcomed for a name that better describes Iceland based on visitors' memories of the island.
In August 2012, the Inspired by Iceland campaign asked people a simple question: What would you name Iceland if this was your first glimpse?  _ _ _ _ Land? and in just 3 weeks, hundreds of followers responded. Many of those who contributed alternative names suggested that the name Iceland was misrepresentative and that another name may better reflect the country.
Inga Hlín Pálsdóttir, Director, Marketing & Visit Iceland at Promote Iceland explains, "As Iceland grows in popularity we're seeing increasing visitors and an ever-growing online fan base. With so many people sharing positive stories, we think it's important to show our residents and others that we are open by listening and have an active dialogue with our dedicated fans…we're embracing and rewarding the name discussion and inviting people to our website to tell us what name they think may better describe our country, some of the naming suggestions will appear on marketing materials and online properties."
Additionally, Inspired by Iceland has also agreed to add a special name day to its calendar to celebrate the winning submission and all those that have been proposed – "a day where we celebrate what the world loves most about Iceland". It was also suggested that the person who comes up with the most suitably descriptive name will themselves be rewarded with an honorary title and a piece of (Ice) land to call their own.
A brand new naming page is now visible via www.inspiredbyiceland.com, and the most popular contributions can be viewed along with the latest videos and images from the campaign. The conversation will also be available on the campaign's Facebook and Twitter pages.