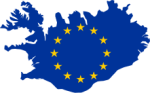 European officials have backed calls for sanctions against Iceland and the Faroe Islands amid a fishing industry dispute. Major European fishing nations have criticised both North Atlantic countries in recent years for taking an increasingly larger share of mackerel from regional waters.
Both Scotland and Ireland have been particularly outspoken on the matter, arguing that increased fishing quotas from the two island countries could be unsustainable for the species and have taken substantial tolls on their own fisheries.
Last week saw the latest in a series of international talks to resolve the deal. However, officials said that the negotiations ended with "disappointing" results, leading to further calls for sanctions.
Scottish Pelagic Fishermen's Association chief Ian Gatt said in a statement, "We welcome today's vote by the European Parliament, although it is essential that the European Commission now moves quickly to implement the measures," the BBC reports.
Mr Gatt added, "This is the third straight year without an international agreement on mackerel, which means the sustainability of this valuable fishery is being jeopardised. Hopefully, today's vote will help ensure that Iceland and the Faroes recognise the seriousness of the situation and at long last they will return to the table to engage in meaningful negotiations."