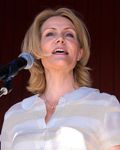 China's VP has cancelled a meeting with Danish premier Helle Thorning-Schmidt. The news came amid the PM's three-day trip to the Asian country.
Copenhagen had said the visit was aimed at strengthening Chinese-Danish ties in a number of areas, including trade, education, culture, science and technology.
However, Chinese officials said on Tuesday (11 September) that Vice President Xi Jinping, who is next in line to take the country's premiership from Hu Juntao in October, had cancelled his appointment with Thorning-Schmidt. No reason has yet been given for the cancellation, but China-based bloggers continue to speculate, with some citing sports injuries or even an automobile accident as the reason.
Xi Jinping recently cancelled two other major diplomatic meetings; one with Singaporean Prime Minister Lee Hsien Loong and one with US secretary of state Hillary Clinton.
Fifty-nine year old Xi has been waiting for nearly half a decade to take China's presidential seat. It was announced in 2007 that he would succeed current leader Hu Juntao.
The news comes despite Thorning-Schmidt's previously optimistic outlook for the visit. She told reporters on Saturday (8 September), "I have a good feeling and strong interest in China. I look forward very much to my upcoming visit to China. I will make joint efforts with Chinese leaders to deepen the comprehensive strategic partnership between our countries, " the Copenhagen Post reports.
She added, "I think the Chinese-Danish relationship is excellent, and now I am going to China to deepen our relationship because I believe it can be an advantage for both China and Denmark."