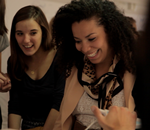 Icelandic innovation company Sif Cosmetics recently had its BIOEFFECT skin care products featured during Vogue's Fashion Night Out event in Colette, the popular concept store in Paris, France.
Last Thursday, Colette's loyal customers were treated to a free consultation as part of this year's Vogue's Fashion Night Out event, whereby BIOEFFECT scientists were on site measuring each individual's skin condition, giving recommendations on skin care, and also introducing the BIOEFFECT skin care products.
Vogue's Fashion Night Out is an international event established in 2008. It has already become a fixed event on the international fashion calendar, where fashion houses and high-end department stores around the world invite their clients and the readers of Vogue to take part in an up-and-close tour, as well as a personal introduction to the latest trends and brands.
The concept store in Paris, Colette, is internationally known for introducing new trends in fashion, art, and design to France and the rest of the world. It was one of the first stores in Europe to take on the BIOEFFECT brand, after its successful launch in native Iceland. In just over a year BIOEFFECT EGF SERUM has become Colette's greatest selling cosmetic product.
Based on 10 years of biotechnology research in Iceland, BIOEFFECT skin care products contain cellular activators natural to human skin which signal the skin to speed up its renewal process and activity. BIOEFFECT 30 DAY TREATMENT, launched internationally this month, is the world's first skin care product to contain three cellular activators natural to human skin, made in plants.
To learn more about BIOEFFECT, visit www.bioeffect.com.