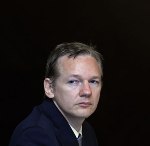 Wikileaks figurehead Julian Assange has urged Washington to end its Wikileaks 'witch hunt' after he was given amnesty by Ecuador last week.
The call from the founder of the controversial whistleblowing website came amid his first statement since retreating to the Ecuadorian Embassy in London in June. During his speech, he also requested the immediate release of US-detained Wikileaks reporter and former US soldier Bradley Manning.
Mr Assange said in person that the US government must act now to conclude its "war on whistleblowers". He said, "The United States must vow that it will not seek to prosecute our staff or our supporters. The United States must pledge before the world that it will not pursue journalists for shining a light on the secret crimes of the powerful."
The 41-year-old's comments come amid ongoing efforts to extradite him to Sweden over an alleged sexual assault incident, which Assange denies and supporters claim is part of a plot to persecute the Australian native for the release of thousands of diplomatic cables via Wikileaks.
The plea comes just three days after Ecuador announced it had granted Assange asylum, citing concerns over the preservation of his human rights. However, UK officials have since said that they will not allow him safe passage out of Britain, whilst Stockholm has also criticised Ecuador for the move.