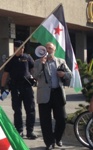 Nearly a dozen individuals have been detained near Stockholm following a protest at the Syrian embassy.
Tuesday morning saw members of the Syriac Union Party group break into the official Syrian diplomatic facility in Danderyd. Police arrived at the embassy just after 10:00 and reported that around 40 people were involved in the protest, although it's not clear how many managed to enter the building.
Sven–Erik Olsson of the Stockholm police told the Aftonbladet news agency, "It seems as if people have got into the embassy. It can't be ruled out that it is rowdy in there."
Police continued to patrol the neighbourhood on Tuesday by car and helicopter. Officials said that arrests were made both inside and outside the embassy.
Meanwhile, Syriac Union Party members told reporters during the protest, "We want to send a message to the world. We want to work to overthrow the Assad regime," TT reports. The party is reportedly representative of Christian minorities in Syria.
However, the group's spokesperson said that the protest would not last long because, "This regime can take our pictures, take down our names and persecute our families in Syria."
Photo: Tobias Wernius