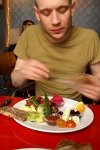 The ninth in a series of light-hearted columns about life as a foreigner living in the Danish capital.
Written for IceNews by Simon Cooper
Summer in Copenhagen – or what passes chronologically as summer (i.e the weather's been shocking) – brings many an outdoor celebration with it, including July's Jazz Festival.
Ever since the likes of Dexter Gordon and Ben Webster fronted a cavalcade of jazz and blues musicians to take the transatlantic plunge and emigrate from the USA, the Danish capital has been carving a role for itself as one of Europe's premier jazz destinations. Alongside renowned blues bar Mojo (which has live music 365 days of the year), this feat is manifested in the various annual outdoor concerts and week-long festivals.
To most people ignorant of the genre – including myself – jazz has a tendency to seem esoteric and inaccessible. Some might deride it as background music; true, it's not always as in-your-face as rock, punk, hip-hop and the like, but the idea that fence sitters can clock in and out of the music or concentrate on one particular instrument with ease makes it ideal for large public spaces and curious crowds. Whilst the temptation might have been for the Copenhagen Jazz Festival organisers to stockpile the performances behind closed doors which cost a bomb to get through, they instead chose to air the array of gigs on the streets, in the squares and by the canals and harbour.
Of course, classis venues such as the Jazz House and La Fontaine (the city's oldest) still twinkle after hours for a reasonable entrance fee, but a large amount of music is out on the streets and doesn't cost a penny.  The postcard pizzazz of Nyhavn is one site where a squat stage and hoards of picnicking onlookers bob to the sound of serpentine saxophone and shuffling drums. When night falls here, the usual canal tour boats take a musical trio onboard to entertain the passengers. Meanwhile, in the side streets, the cunningly-titled 'Drop Inn', La Fontaine and Nørrebro Brewery are amongst tens of other venues supporting the event.
It's safe to say that Copenhagen has a love affair with jazz and blues. Said affair roughs out the bitter winter and then, when the idea is that the sun shows its face, the rendezvous between instrumentalist and fan can be brought out into the light of day. It's a genre for all seasons; this is reflected in the fact that there's a Winter Jazz Festival to accompany this one now.
And, aside from anything else, the pace of the jazz music helps slow down the constant stream of summer tourists as they waltz through the city centre.