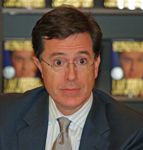 After weeks of wrangling, VisitSweden officials have decided to deny US comedian Stephen Colbert's appeal to manage their Twitter account @sweden.  The American launched his '#artificialswedener' campaign after the marketing strategy hit world headlines when Swedish citizen Sonja Abrahamsson started posting controversial statements about Jews and homosexuals.
"Although we appreciate that having Colbert as a Curator of Sweden would be meaningful in terms of global attention to this initiative, VisitSweden and the Swedish Institute have decided to – after thorough consideration – decline his generous offer," the agencies told The Local in a statement. "The account is – at the current time – first and foremost a way for us to hand over the voice of Sweden to the Swedes," it added.
Frida Roberts, the Swedish Institute's head of communications, said, however, that the offer was very "tempting". "It's been very exciting to realize that Stephen Colbert has such a strong interest in Sweden and our culture," added Maria Ziv, Director of Marketing at VisitSweden.
Mr Colbert ran a number of segments on his show in an attempt to persuade the campaign organisers that he would be a suitable candidate to take over the account, which is manned by a different Swede each week. Last week he threatened to cut off communication with Sweden if his demands weren't met, before launching into Abba's Take a Chance on Me.
VisitSweden's head of PR and social media Johannes Karlsson, who Colbert had singled out as an obstacle in his campaign, admitted that they took the request seriously. "We've had real flesh and blood meetings about the whole thing for days now, and even though it's a no, we hope to maintain good relations with Mr Colbert and his many fans," he said.