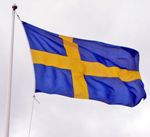 A Sweden Democrat politician who claims her home was targeted by arsonists last year is now suspected of starting the fire herself.  Police have confirmed that Frida Grundström, a Gnesta council member for the right-wing party, has been assigned a lawyer before charges are brought.
Grundström claims she was alone at her apartment in Södermanland south of Stockholm when the fire started. "I stood in the kitchen making pizza and had some music on. But then I heard the fire alarm and went out into the hall to see what had happened. When I came out there it was burning on the door and on the floor," she told the Dagens Nyheter (DN) newspaper after the fire in August last year.
The politician said she was convinced the act was politically-motivated arson, adding that she had previously come home to find a swastika painted on her door. However, police claim new information has come to light that indicates Grundström may have caused the fire herself.
Speaking to Expressen, Bengt Malmberg, Sweden Democrat's head of security, said he is surprised by the turn of events. "This doesn't sound right in my opinion. Of course it's damaging to our reputation if a person is suspected of doing it themselves, but it's unthinkable for me to do something like this," he said.
When asked if Grundström will be dispelled from the party if convicted, Malmberg said, "It's not me who decides. This has to be taken up in the membership committee. It's surely an issue that's going to be discussed though," he said.