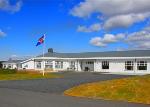 With the summer months fast approaching, Grímsborgir Guest Houses on the Golden Circle tour route in South Iceland is preparing for the seasonal rush.
The luxury country accommodation, located just a 45-minute drive from the capital, Reykjavík, is ideally located close to some of Iceland's most popular tourist sites; Þingvellir, Gullfoss, and Geysir.
The guesthouses are ideally situated for those wishing to explore the Golden Circle, where one finds the magnificent waterfall of Gullfoss; the geothermal area of Geysir; and Kerið, a water filled volcano crater.
"Due to our location, we often accommodate people who come specifically to explore the Golden Circle at their own pace. It is an ideal opportunity to fully take in and appreciate the sights. We always happy to help by providing visitors with information about the local area; there is plenty to see," commented Ólafur Laufdal, Manager and Owner of Grímsborgir Guest Houses.
Grímsborgir offers 6 luxury apartments that come fully equipped with a kitchen, dining room, and living area, as well as an outdoor hot tub overlooking the beautiful surroundings. The apartments vary in size, accommodating from 4 to 10 people. The largest is 200 square metres with 4 bedrooms, a large kitchen and dining room, fireplace, lounge area with a TV, and large bathroom with both a shower and bathtub. There is also a first class restaurant on site, serving gourmet food made with fresh, local produce.
To view photos of Grímsborgir's luxury apartments and to make a booking, visit http://grimsborgir.com.