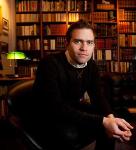 Andri Guðmundsson, CEO of H.F. Verðbréf (H.F. Securities), an Icelandic securities firm, recently gave an interview with the American financial news corporation Bloomberg regarding capital controls in Iceland and how they are affecting investors.
Following capital controls imposed in 2008 by the Seðlabanki Íslands (The Central Bank of Iceland), investors with about USD 3 billion backed up in ISK assets, now face delays in exiting their holdings as steps to ease the restrictions by 2015 show signs of faltering.
"It will take decades for the central bank to remove the capital controls…Eventually the central bank will have to change tactics," explained Guðmundsson when talking about the bank's current method and how the currency restrictions remain a key impediment to boosting Iceland's credit grade.
At last week's currency auctions, Seðlabanki Íslands purchased ISK 4.9 billion (USD 39 million), less than a fifth the target. The bank also bought EUR 22.5 million (USD 30 million) of a planned EUR 100 million in a separate auction designed to encourage long-term investment.
"One of the reasons investors aren't participating in the central bank's auctions is that they don't trust the central bank and the Icelandic authorities," commented Guðmundsson.
Following this, Althingi, the Icelandic Parliament, agreed to backtrack on a plan to ease currency controls by targeting bondholders it characterised as speculators. This also stopped some bondholders from cashing in on their investments just days before payment was due by banning currency exchanges on select returns.
The decision meant investors in inflation-linked debt were unable to get paid in foreign currencies. It also blocked investors in krona-denominated bonds from tapping currency markets to exchange their returns. The benchmark 2014 HFF krona-denominated mortgage bond slumped 14 percent the day the law was passed.
Iceland's currency has sunk by around 6 percent against the euro so far this year as the central bank's efforts to rebuild the island's capital markets fail to curb losses. The central bank last week accepted a minimum price of ISK 235 per euro in its purchase auction, or 40 percent below the current onshore rate of about 168.
"Ideally, the central bank wants the krona offshore rate to converge with the krona onshore rate," said Guðmundsson. "When you look at the developments over the past year, there are signs that the reverse is happening."
Iceland returned to international bond markets last June with a USD 1 billion sale, marking a milestone in the island's recovery from its 2008 meltdown. The Finance Ministry said recently in a debt strategy report that it would aim for "regular access" to international markets.