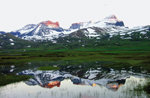 Iceland's leading airline, Icelandair, has now resumed its seasonal flight service from Washington, D.C. to Iceland.
Icelandair resumed its seasonal Washington, D.C. service with flight #644 departing from Washington-Dulles International on Thursday 29th March at 8:40pm. The airline is now offering up to six flights per week from Washington-Dulles with service running through to 8th January 2013, resuming early spring 2013.
Along with the first flight of the season comes a new business class lounge. The Air France Business Lounge will now be open for all Icelandair Saga and Economy Comfort class passengers traveling from Washington, D.C.
In addition, due to the increased demand from New York, Icelandair will be introducing a second evening flight with up to 10 flights per week from JFK through to 5th November 2012. A service from its newest gateway, Denver International Airport, will also be launched on 11th May 2012.
Moreover, Icelandair offers service to Iceland from Boston, New York-JFK, Seattle, and Denver with seasonal service from Minneapolis – St. Paul, Orlando Sanford, Halifax and Toronto.
Connections through Icelandair's hub at Keflavik International Airport are available to over 20 destinations in Scandinavia, the UK, and Continental Europe. Only Icelandair allows passengers to stopover in Iceland at no additional airfare.
Further information about Icelandair flights from U.S. to Iceland can be found at www.icelandair.us or by calling (877) I-FLY-ICE.