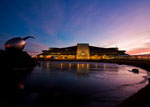 Iceland's main airport Keflavik International Airport (KEF) is offering facilities for businesses looking for aircraft storage and workshop spaces between North America and UK/mainland Europe.
The airport holds a range of buildings for lease including aircraft hangars, storage spaces, offices, workshop spaces, and also lodging for anyone stopping over at the airport.
KEF operates at all hours all year round and can serve all types of aircraft. It boasts two crossing runways, designated 02/20 and 11/29, which are 3,054m and 3,065m long respectively. Both surfaced with asphalt, and approaches to rwy 11 and 20 are   CAT II and the other two, rwy 29 and 02, are CAT I. Furthermore, KEF provides 41 aircraft parking bays, for short term and long term parking.
Security at the airport is high, with well-equipped facilities to handle any situation. Also, unlike most airports in Europe, KEF stays open during bad weather, with flights running as normal, and delays as little as possible.
In addition to this, KEF has been voted as the 'Best Small Airport in Europe' in 2011, as part of a passenger survey conducted by the Airports Council International (ACI) for customer comfort, satisfaction and ground services. The airport was also awarded as the 'Best Airport in Europe' in 2009 by the ACI for its services. KEF still remains amongst the three-best airports in the world.
For more information regarding business facilities and aircraft storage in Iceland, visit http://b2b.kefairport.is/English/Facilities-for-lease/.
Furthermore, Keflavík International Airport released the January edition of its trade magazine, Airmail, which features up-to-date information on its business facilities. Click here to view it online.