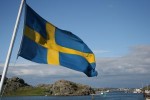 A leaked letter has revealed that the Swedish government was in talks with Saudi Arabia about providing the dictatorship with an advanced security system so it could spy on its own people, according to a report by Expressen.
The newspaper this week published a letter that was apparently sent from Swedish minister for trade Ewa Björling to Saudi Prince Mohammed Nayef in September 2009.
Expressen claims Prince Nayef wanted to spend "several million kronor" on cameras, underground control centres and digital equipment in order to watch over his subjects. In response, Björling apparently said that the two countries could work on their "strategic partnership" in the future, adding that Swedish security systems are particularly advanced.
According to Expressen, Björling wrote: "The responsible Swedish government agencies are prepared to provide an initial study regarding civil public security utilising the full knowledge gained from Sweden's experience along with its advanced and proven technologies."
Government ministers have so far denied responsibility, with all fingers currently pointing towards the Swedish Fortifications Agency (Fortifikationsverket) and the Ministry for Foreign Affairs. Neither group has denied or confirmed the accusations, however.
Björling indicated in his letter that a workshop relating to the possible collaboration had already taken place in June 2009. According to the newspaper's sources, the end result could have seen the dictator able to monitor civilians closely and "deploy heavily armed domestic troops" if necessary.
The revelations have been heavily criticised, especially by Left Party spokesperson on foreign policy, Hans Linde.
"I think it is unacceptable to be engaged in this type of co-operation with a country like Saudi Arabia. This would be actively providing one of the worst dictatorships with tools to monitor and thereby repress its own people," he told the paper.