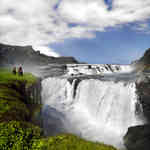 Iceland's leading airline Icelandair has announced a new package deal that aims to be the ultimate holiday in Iceland for spring 2012.
Spring is an incredible time to visit Iceland. During this time of the year, the days become longer but still get dark enough at night to catch a last glimpse of the Northern Lights before they disappear during the summer months. This extra period of daylight also gives travellers a few more hours to explore the exciting sights of Iceland, including waterfalls, geysers and other areas of natural beauty.
In order for travellers to experience the best of Iceland, Icelandair has recently launched its 'Ultimate Iceland Holiday' package deal, which includes return flights from London Heathrow, Manchester and Glasgow; three nights accommodation including breakfast; a Reykjavík city tour; Golden Circle tour; a whale watching cruise, and an afternoon at the Blue Lagoon spa.
After a short flight to Reykjavík and a day settling in, the second day features a tour of Reykjavík with a local tour guide. After a break for lunch, the itinerary continues with a trip to the countryside to circumnavigate the famous Golden Circle route. Stops include Gullfoss, one of Iceland's most majestic waterfalls, and the Geysir geothermal area. Then there is time to explore Þingvellir National Park, home of the first Viking parliament.
Day three begins with a Reykjavík whale watching cruise on scenic Faxaflói Bay, which boasts whale sightings of around 98 percent. The most common sightings are minke and humpback whales, and puffin sightings are also very common.  After that, the tour visits the Reykjanes peninsula, home to the Blue Lagoon, a beautiful geothermal spa set in the middle of a lava field. The afternoon is spent relaxing in the healing waters of the Blue Lagoon. Day four is a free day and the perfect time to do some shopping in one of Reykjavik numerous boutique stores.
For more information regarding the 'Ultimate Iceland Holiday' package deal with Icelandair, visit www.icelandair.co.uk.