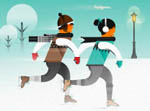 Due to inclement weather, it was necessary for sponsors Icelandair to cancel the second annual 'Last Bostonian Skating' ice skating charity event scheduled to take place at Kendall Square Community Ice Skating Rink in Boston, Massachusetts on Saturday March 3, 2012.
Since the purpose of this event is to raise money and awareness for The Children's Hospital Boston and The Special Children Travel Fund, Icelandair is still encouraging donations to The Children's Hospital Boston at https://howtohelp.childrenshospital.org/events/pfp/?ID=RM0149&Name=lastbostonianskating and will be selecting winners at random to receive exciting gifts.
Gifts to be won include limited Edition Last Bostonian Skating posters, outerwear from 66 North, skin care products from The Blue Lagoon, CDs of some of Iceland's hottest bands, and special gifts from Icelandair, including gift certificates for travel and a trip for two to Iceland!
Icelandair has stated that there is no minimum donation required and larger donations will not increase the chances of being selected. However, the airline is hoping that donors will give from the heart regardless.
For more information regarding the 'Last Bostonian Skating' charity event, visit http://www.icelandair.us/lastbostonianskating/.