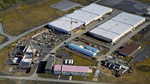 Iceland Data Center provider Verne Global has announced that is has three new customers located at its newly opened data center at the Asbru Enterprise Park in Keflavík, Iceland.
Verne Global has announced that its hosting leading game developer CCP Games, carbon-neutral service provider GreenQloud, and IT service provider Opin Kerfi on site.
CCP Games, the creator of the EVE Online virtual world, chose Verne Global based on the site's renewable power grid and strategic location between its two primary markets. Furthermore, a key factor is Verne Global's ability to offer fixed power pricing for extended contracts.
"The primary reason for selecting Verne Global above all other alternative sites were the availability and predictability of power and the option of securing long-term price guarantees at attractive price levels," explained CCP's IT Director, Ingvar Bjarnason.
GreenQloud is also basing its hosting services from the Verne Global Data Center, as the Iceland Data Center situated perfectly between the European and North America markets.
IT service provider Opin Kerfi is taking space in the data center for its hosting requirements as it has been selected as Verne Global's preferred systems integrator.
"Our rich history, dedicated IT support team and established relationships with leading solution providers such as HP, Microsoft, Cisco and others will help ensure that Verne Global's customers have the support needed to succeed," commented Gunnar Guðjónsson, CEO of Opin Kerfi.
The new data center uses Iceland's vast supply of hydroelectric and geothermal energy, and also takes advantage of the country's cool climate, which allows for free cooling all year round. Modular specialist Colt customized the data center's hall design, equipping it with cooling modules that allow to cool servers using air from outside the data center.
To find out more regarding the Iceland Data Center and the Asbru Enterprise Park, visit http://asbru.is/english/.