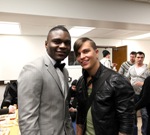 Norwegian singer/songwriter Atle Pettersen and rapper Rex were recently in Iceland to shoot a music video at Atlantic Studios in the Asbru Enterprise Park. The popstars, who are currently dominating Norway's music scene, were shooting a video for the song 'Amazing'.
In an interview with VíkurFréttir, Rex explained that he had always wanted to visit Iceland, and when he learnt about Atlantic Studios and the possibility of filming a music video in the country, there was no question.
Elizabeth Thoroddsen, Head of Film at Pipar/TBWA, the company in charge of production on the day said, "There is a lot of interest surrounding Iceland. Many find it an interesting place to come and work, and there are plenty of artists/musicians who would like to come and shoot videos here."
CEO of Pipar/TBWA, Valgeir Magnússon, explained that the location and facilities were perfect for the task at hand and all scenes were recorded without any problems.
The film studio is located in a former aircraft hanger at the old military navel base in Keflavík. The facilities include a 2,200 m2 soundstage with an extra 2,800 m2 for support areas, a 480 seat theatre for screenings and a swimming pool for ocean scenes.
In the last few years, several films have been partly shot at Atlantic Studios including The Good Heart, The Reykjavík Whale Watching Massacre and Rokland. Additionally, large international productions such as Flags Of Our Father and Batman Begins have filmed on location in Iceland.