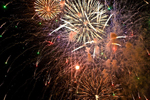 For those who are intrigued to discover how the locals celebrate New Year's Eve in Iceland, but aren't fortunate enough to make it in person, they can now be a part of the festivities anywhere in the world via an online webcam by Icelandic telecommunications company, Mila.
At the stroke of midnight, Iceland's capital, Reykjavik, night turns to day when hundreds of fireworks illuminate the city's skyline. Viewers will get to experience the exploding rockets and dancing lights sparkle and shimmer as it happens. For an idea of what to expect on 31st December 2011, check out last year's celebrations here.
Mila also maintains other incredible webcams, which are widespread across Iceland, and can all be viewed live 24/7 via its website. These webcam locations include the Blue Lagoon, Gullfoss, Jokulsarlon, Geysir, Katla, Hekla, Eyjafjallajokull, Akureyri and Austurvollur in Reykjavik.
In addition to its webcams, Mila is known for building up and operating the most modern telecommunication network in Iceland. The company also offers its solutions to companies and institutions engaging in telecommunication activities.
To be a part of the New Year's Eve celebrations in Iceland from anywhere in the world, be sure to tune in on 31st December via http://live.mila.is/english/newyears/.