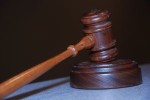 A woman who was dragged into bushes and nearly strangled to death with her own belt has testified against the so-called 'Amager Attacker' in a Danish court.
Marcel Lychau Hansen allegedly struck the 47 year-old, pulled her from a pavement and forced her to perform oral sex on him while tightening her belt around her neck.
Doctors who examined her afterwards confirmed that the belt was wrapped so forcefully around her throat that she was in "imminent danger" of death. A clump of her hair was also found at the scene and a trace of Hansen's DNA on her skirt.
The suspect is accused of murdering two women and raping eight others in attacks around the Copenhagen area stretching over two decades. More than 50 witnesses will have been called to the stand when the prosecution closes its case later this month.
On 1st December Copenhagen City Court was told how the woman was attacked on Vangedevej while walking home from a wedding party in the early hours of 22nd July 2007. She described her attacker's distinctive green Adidas trainers, while another witness reported seeing a man in the same shoes running away from the Nymose marsh where the assault took place.
Various witnesses, including Hansen's ex girlfriend, have told prosecutors that he wore the distinctive green trains often. He has, however, denied in court that he ever owned a pair.
Hansen admitted that he is familiar with the area where the woman was attacked, but denies any involvement. "I've been there lots of times. As a football coach, I know all the football clubs in greater Copenhagen. But none of this here has anything to do with me," he told the court, according to the Copenhagen Post.
He has denied all charges. The case continues.